Agriculture Road to Sustaining Life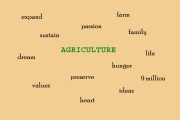 Agriculture Road to Sustaining Life
If you would like to vote for this contestant, simply click on the blog post's title then click the green vote button on the left side of the post.
I recently read an article which stated that every 3.6 seconds, someone in the world dies of hunger, that's about 10 million people per year ("Investing in a food secure future" by Howard G. Buffett, AgriMarketing Magazine). In 2050, the world's population will be over 9 billion. If agriculture production does not increase, more people will die of hunger every second than the current rate.
I grew up in a home that values life. So, when I hear statistics like these, my heart feels a little tug deep within: a tug to help those who are hungry. Even more, my family farms, which has instilled in me a hard work ethic, passion for agriculture and a love for people.
"With that past, I know agriculture is the key to feeding that hunger, to sustain life. I want to be a key player in increasing food, feed, fuel and fiber through production while protecting our environment around us.
That in mind, I know the future of agriculture is full of potential. And my dream is to bring sustainability to those suffering around the globe. Personally, I have sought to be involved in the media side of agriculture, so that I might keep up with what is going on, increase my knowledge and understanding of different areas of agriculture.
Since I began expanding my horizons in agriculture during college through Ag Ambassadors and Agriculture Future of America, I have had a growing passion for those starving around the world, especially people in Africa.
When asked what the future of agriculture holds for me, it is a lifestyle to bring sustainable agriculture to those in need. I have a dream to go to Africa and share with those in that country the very knowledge, understanding and resources I have grown up knowing and learning. I desire to do this so that families there may experience a life without hunger or suffering because of a lack of sustainable agriculture.
Africa is my dream place to make a difference, but the real difference is made by others who desire to do the very same all around the world. There are many statistics, but humans themselves are able to change those statistics. I desire to share my passions with others so that they might also invest their time and knowledge into helping others grow a sustainable lifestyle.
It may seem very idealistic, but successful results begin with ideas. My future is working to sustain and preserve life. No matter what road I take, in the end I will influence lives around me.
My dream is to one day positively influence the lives of those in Africa, but it starts here and now with the messages I share and understanding I gain. My dream is to help the dreams of the hungry come true. And until I have the resources to go there, my current place along the road is to influence those around me. And the only way I know how to do that is to be actively involved in that which sustains and preserves life: agriculture. Agriculture changes a hungry world.
- Shawna Aakre