Alltech Ag Network - Lead This Revolution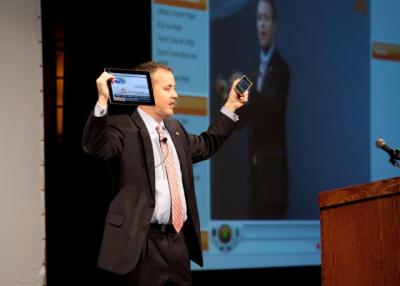 Billy Frey, General Manager of the Alltech Ag Network, spoke at Global 500 about the power of social media and how it can help agriculture tell its own story.
There are a lot of discussions online about food and agriculture. Are we going to let them tell our story or are we going to tell our own story? Are we going to let them see exactly what we do? We should, because we have the greatest story of all time, the story of agriculture. The Alltech Ag Network can help us tell that story. It allows me to do it. It allows you to do it.
Each year more producers join the discussion online in an effort to make sure that they are represented accurately and fairly. The Alltech Ag Network is a dedicated platform for that discussion. It is the first video sharing site of its kind; focused on allowing ag youth organizations to build their own video channels.
Frey outlined some of the unique benefits of the network. It allows ag organizations to create their own channel which functions as website, video gallery and photo gallery, all for free. In addition, every channel has its own mobile app. Organizations can also sell ads and merchandise, making the channel a source of revenue. Students can create their own profile pages where they tag segments of videos in which they appear.
The Alltech Ag Network is powered by iHigh.com, a youth sports network, which provides the state-of-the-art technology. Their "production truck" software allows anyone with a laptop to produce live broadcasts and manage commercial breaks. This type of functionality once required an entire semi-trailer full of equipment, hence the name "production truck."
Although the Ag Network has only been live for a couple of months, it has already had hundreds of thousands of views. Some of the most popular broadcasts include the Future Farmers of America convention and the Alltech National Horse Show. Groups that have built channels include pony clubs, high school rodeo organizations, county fairs and ag communicators.
Frey left the audience with an invitation to take advantage of the Alltech Ag Network for their local ag organizations. "Set yourself apart and lead this revolution."