Alltech European Lecture Tour - Ireland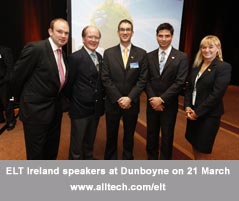 The first stop of the Alltech European Lecture Tour took place yesterday, 21st March in Dunboyne, Co. Meath, home of the Alltech European Headquarters. The tour was opened by the Ireland Country Manager, Cathal McCormack who gave a great insight into Alltech and the theme of the tour "Feeding the World".
More than 90 guests listened as Dr. Jules Taylor-Pickard explained the global solutions for local animal productivity challenges. Dr. Colm Moran demonstrated how recent regulatory innovations will help to differentiate your business in these competitive times while Dr. Pearse Lyons showcased the Next Leap Forward: A World Vision of 2050.

There was a great atmosphere as well as some great feedback from guests. Some comments included "This was a very informative day and allowed us to gain a better insight into Alltech, As always a great presentation by Dr. Lyons, he truly is inspirational!".
ELT Ireland Speakers - Photo Caption (left to right): Cathal McCormack, Country Manager Alltech Ireland, Dr. T. Pearse Lyons, President and Founder, Alltech, Colm Moran Director or EU Regulatory Affairs, Alltech Europe, Paulo Rezende, Alltech, Dr. Jules Taylor-Pickard, Solutions deployment team Manager, Alltech Europe.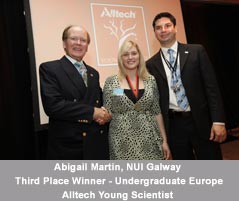 Abigail Martin from NUI Galway who was placed 3rd in the Regional Competition for the Alltech Young Scientist was also in attendance and was presented with a medal by Dr. T. Pearse Lyons.
At lunch guests were provided with Optigen-fed sirloin steaks, thanks to Gilligan Meats.