Alltech Sustainable Haiti Project - Haitian Harmony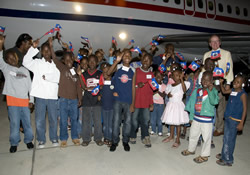 "We waited in anticipation for the plane full of little faces to arrive last night. They disembarked excitedly and, at the drop of a hat, they began to wave their little Haitian flags at us.
I have rarely been surrounded by so many little people. The children are all aged between 7 and 12 years old. I sat with them on the bus journey and all of them were giggling. I called one of the girls "Ma Chérie" which caused them all to break into hysterics."

Dr. Pearse Lyons - describing the arrival in Lexington of Haitian Harmony, a choir of Haitian school children.
Earlier this year, Dr. Lyons led a team from Alltech on a visit to the Centre Educatif l'Union des Coeurs, an elementary school in Ouanaminthe. As the children sang to their visitors, Dr. Lyons imagined assembling a choir of Haitian school children, similar to The African Children's Choir, performing abroad to raise awareness of the Haitian story.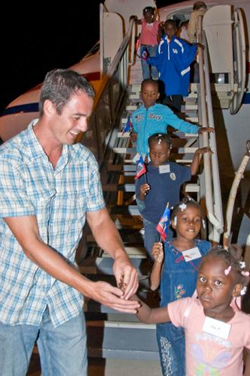 Months of hard work have gone into this trip to Kentucky. The children have been rehearsing diligently with their choir directors, University of Kentucky School of Music graduate students Eric Brown and Manuel Castillo.
Several people from Alltech and UK have worked tirelessly to make this happen. Most notably Alltech's Jorge Gotuzzo, who spent the last month and a half in Haiti sorting, and sometimes wading, through red tape to obtain passports for the children to make the trip.
The children arrived in Lexington this Wednesday, with plenty of time to relax before their big performance at the opening ceremony of the Alltech FEI World Equestrian Games. They will also perform October 4th during Alltech's Haitian Harmony Benefit Concert with six-time Grammy winners and Irish music giants The Chieftains.
Alltech's Haitian Harmony is part of the Alltech Sustainable Haiti Project.