Alltech Young Scientist competition is an eye-opener for Irish student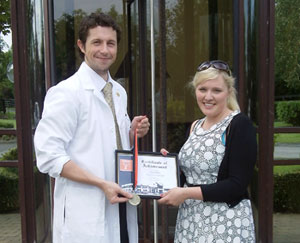 Abigail Martin, NUI Galway, Ireland receives her Alltech Young Scientist awards from Dr. Mark Gaffney, Research Associate, Alltech Ireland
Abigail Martin from NUI Galway, Ireland was the third place Undergraduate winner in this year's regional Alltech Young Scientist competition. Abigail has just completed her final year studying Biotechnology and visited the Alltech European Bioscience Centre in Dunboyne, Ireland last week where she was presented with her certificate and medal from Dr. Mark Gaffney, Research Associate, Alltech Ireland.
During her visit, Abigail told us about her winning paper 'A review: Genes involved in Embryo- endometrial interactions in mares during maternal recognition of pregnancy (MRP)'.
"The objective of the review was to give an overview of genes involved in the signalling mechanisms between the equine embryo and its mother during the early stages of pregnancy. Embryo- endometrial interactions of mares are complex and essential for embryonic growth, development and fixation (implantation). The stages during early embryonic development are considered important as there is a high rate of embryo mortality in horses and other ruminants during this period. This review focused on the relationship between the endometrium and embryo, primarily in equines but also in ruminants and rodents. It discussed proteins associated with the capsule involved in endometrial communication, the synthesis of prostaglandins and gene regulation in the endometrium during MRP," explained Abigail.
"The Alltech Young Scientist competition is an exciting new experience. I would recommend this competition to other students as it has been a great opportunity in terms of scientific writing. To win an award is a great achievement. Alltech have opened my eyes to different areas of the research industry and allowed me to consider new career opportunities," said Abigail.
If you'd like to join Abigail in the Alltech Young Scientist Hall of Fame, register now for the 2012 competition. You can also keep up to date on the program on our Facebook page.