David Wescott tells us "What Women Want"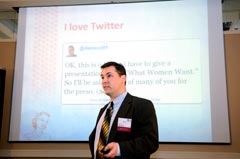 David Wescott, APCO Worldwide tells us "What Women Want"
David Wescott is vice president of APCO Worldwide and also directs their social media team. He helped found APCO's social media practice and specializes in outreach to online moms.
David presented at this afternoon's New Ag Network session at Alltech?s Symposium and shared insights from influential women on "What Women Want" from themselves, from the people in their lives, and from the product brands intended for them. It focused on how women use online networking to build a community and then leverage success in that network to have a major impact on our mainstream media and culture.
More than one person has noted the irony of a man giving this presentation. But in candor it's very easy to tell you what women want - in the words of a brilliant advertising exec, author, entrepreneur and mom - "women want to be understood."
But here's the hard part - all women are different. And despite what some people in marketing may say, I'm convinced the moment you try to label a woman you've lost her. Sure, many women may share common interests, perspectives, ideas, and values.?But that doesn't mean you can treat them the same way.

I'll be talking in greater detail about what this means for people in communications, but if you can't make it to Lexington I'd recommend you start actually paying attention to what women have to say. The good news is a lot of them don't hide their thoughts. Here's a partial list of the women whose blogs I try to read regularly. I think if you look at the blogs in this list you'll realize very quickly that they're all quite different people with different situations. No one message is likely to appeal to all of them, but they may all appreciate a sincere effort to understand each of them.