Dr. Pearse Lyons tells the Haiti Story at the Alltech Symposium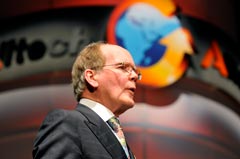 Dr. Pearse Lyons tells the Haiti story
If you've ever been to our Symposium you know that Dr. Lyons is going to tell a few stories during his opening session. This morning he told the story of our sustainable Haiti project. He went to Haiti after the January 2010 earthquake and wanted to help. But where to start? We started with coffee producers in northeastern Haiti. As an ag company it made sense for us to form a partnership with ag producers.
In 1820 the Haitians, then slaves, revolted against the French. This was the only slave rebellion in the world to succeed. They built a castle to defend their new country and to symbolize their journey to the new world. Shaped like a slave ship, the Citadelle Laferrière is a stunning tribute to their struggle for freedom. Family farmers, many of whom are women, work their shade grown coffee farms in the hills below the Citadelle. These farmers belong to fair trade coffee co-ops like Cacgava in the village of Dondon. The northeast corner of Haiti has a network of these co-ops called RECOCARNO.
Alltech's Café Citadelle is part of our Sustainable Haiti Project. If you would like to help us support a sustainable agricultural enterprise in Haiti go to coffeestore.alltech.com and purchase a bag.