Education Will Prevail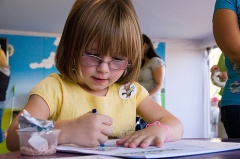 Education Will Prevail
If you would like to vote for this contestant, simply click on the blog post's title then click the green vote button on the left side of the post.
For millennia, agriculture has been the foundation of human life. Our ancestors discovered new ways of producing food, which allowed them to settle in an area, grow crops and harvest livestock. This helped to better their standard of living and form villages, empires and culture.

Fast forward to today as we approach a population of nine billion people. The production of food and other byproducts has to be our number one priority and this will come through understanding the value of modern agriculture and learning how to continuously improve practices.
So few of the world's inhabitants are involved with agriculture and many take their food and clothing for granted. Some elementary school children have never set foot in a yard, can't tell the difference between a cow and a horse, and college students study the masterpieces of culture, but don't have an elective requirement that involves agriculture in anyway. They all eat, but they don't know how that food got there. This needs to change.
As the global population expands, by 2050, one farmer or rancher will need to feed upwards several hundred people. That's a lot to ask of them. But with advances in technology and further understanding of how to make agriculture sustainable and renewable, we can make every child's world in the future as comfortable as we have it today.
In the next 40 years, we have got to do a better job of educating our youth on why agriculture is important, why farmers and ranchers do what they do, how they too can be involved with the industry. The current disconnect of citizens from agriculture is something that by 2050, needs to be reconnected. Without the proper understanding, the industry will be under great pressure to produce the maximum amount of products possible with hardly any support. Yet, if we take food away, suddenly, people will value the hard-working famer. This can be mitigated through education and research.
Agriculture will mean those working in the fields and pastures, but also, it will be scientists in the lab analyzing nutrition, researchers making sure the environment is being well taken care of, economists mapping out the financials for agribusinesses, and families supporting one another to keep their communities thriving.
The global culture will in fact be agri-culture. It has to or sustaining nine billion people will not be feasible.
- Lauren Chase
laurenmchase.blogspot.com