A Grand Finale - Alltech's 26th International Animal Health and Nutrition Industry Symposium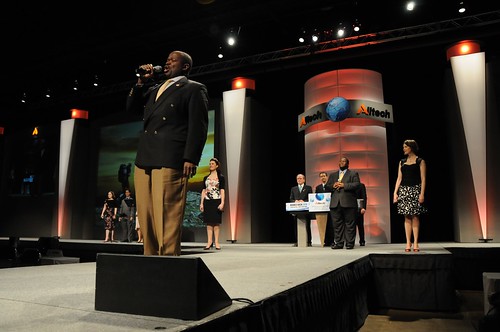 The closing sessions this morning were very exciting. Here is quick overview of some of the great presentations that we saw.
Dr. Ronan Power, Director of Research at Alltech's Center for Animal Nutrigenomics and Applied Animal Nutrition presented the The Dr. William Markesbery Memorial and described some very exciting developments in the study of selenium therapy related to Alzheimer's research.
Dr. Karl Dawson, Alltech's Director of Worldwide Research was very enthusiastic as he spoke about the promising future of nutrigenomics, nutritional science, enzyme technology and algae utilization.
Jim Host, has long been a driving force in Kentucky. He was a driving force behind the creation of the Kentucky Horse Park and Kentucky's bid to host the 2010 Alltech FEI World Equestrian Games. He told some great stories. He told how he convinced Pearse Lyons in 15 minutes that Alltech should be the title sponsor of the games. He told another story about Pearse Lyons that I can't mention here but you can check out the video of the session and hear it for yourself. Click here for the video of Jim Host's presentation.
Mark Lyons spoke about the importance of branding, education and involvment for the agriculture industry. On one hand agriculture is challenged with feeding a growing world population. On the other hand the industry is the target of potential government regulation and negative. We have to do more to stay engaged and make sure that our industry is participating in the dialogue and not standing back waiting for others to decide our fate.
UK Basketball Coach John Calipari gave a great talk on how to Bounce Back. Like any good coach he started off by telling us to stand up. I thought we might do some jumping jacks for a second but instead he led us through a little experiment in being positive. He inspired the crowd with 10 points to help you Bounce Back and personal stories about his own Bounce Back.
Pearse Lyons left us with some closing remarks and came back to his opening theme of "Once Upon A Time, the greatest four words in any language." He asked the audience to come back next year and introduced Everett McCorvey, UK Director of Opera who closed out the show with a beautiful musical finale.