This Isn't Just the Animal Feed Industry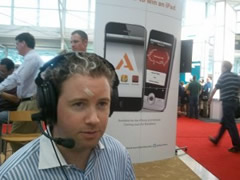 Mark Lyons talks with Trent Loos at the World Pork Expo
Trent Loos interviewed Dr. Mark Lyons at the World Pork Expo in Iowa last week. They talked a little bit about Alltech's new pig app that allows producers to look up information on pig health, pork quality and environmental issues. Then they moved onto a little broader topic, the role of agriculture in human health.
Mark described it this way. "This isn't just the animal feed industry, it isn't just the food industry, it's the human health industry." Of course, everyone knows that nutrition is an enormous factor in human health. When topics like obesity come up most of the blame is directed at the food industry, the restaurant industry or the consumer. Lyons sees an opportunity for agriculture to take the lead and change perceptions. Too often we spend our energy and resources just reacting to criticism.
Lyons went on to say:
We need to lead. We've talked to food companies and restaurants and we're saying, we can give you a product that's going to taste better; it's going to be better for you; it's going to remove a lot of safety concerns; and we can work within the entire industry and link the food chain. And they're really excited about it... We've got a lot of the solutions already in our hands.
Visit Faces of Agriculture to hear Mark Lyon's full interview on agriculture, nutrition and human health.