New Ag Network Session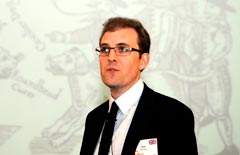 Tom Standage, The Economist spoke at this afternoon's Ag Network session
We are rolling out a lot of new things for this year's Symposium. In fact we have an entirely new breakout session focused on the communication and information revolution that is underway in agriculture. Social media, precision marketing and sustainability in production and supply chain management are some of the topics that are being discussed.
Tom Standage, author of "An Edible History of Humanity", will speak on "Searching for Intelligent" life.
Troy Hadrick of Advocates for Agriculture, will explain how farmers and ranchers can spread the positive message of agriculture with social media.
Ben Self, co-founder of Blue State Digital, an internet marketing firm that helped to raise $500 million in $5 and $10 campaign contributions, will explain how to connect with customers online.
Joel Newman, president of the American Feed Industry Association, will outline their ambitious new sustainability initiative.
Becky Timmons of Alltech will be exploring the Farm of the Future concept. That's a term that is often used and seldom defined but in this session we will explore some of the specific technologies that might be incorporated into a farm of the future.
Brian Coan of Chik-Fil-A will explain how to create "Raving Fans".
This has been a very interesting session so far and we expect it to be a great addition to the excellent species sessions that have made Symposium such an informative event.