Opening Ceremonies Include Cast of 200 Horses and 1,500 People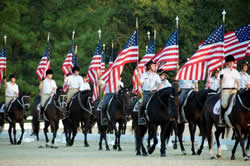 Opening ceremonies for the Alltech FEI World Equestrian Games start in just a few hours. Two hundred horses and 1,500 people from around the world will take part in the ceremonies. Most Kentucky NBC affiliates will broadcast the event live from 7:00 - 9:00 p.m. EDT.
Dr. Everett McCorvey, Director of Opera at the University of Kentucky School of Music, produced and directed the opening ceremonies. He and the performers have worked for more than a year to put together an exciting program that features a wide range of American music as a tribute to the Games' American debut. Entertainers include, dozens of Kentucky school children and a long list of professional artists; including Kentucky's own Wynonna Judd and opera stars Denyce Grave, Cynthia Lawrence, and Ronan Tynan. Haitian Harmony, a Haitian children's choir trained by University of Kentucky graduate students will perform and there will also be a special appearance by legendary athlete, humanitarian and Kentuckian Muhammad Ali.
Click here to hear Dr. McCorvey describe the opening ceremonies. (Download is provided for free download from Lloyd Bell Productions)