Ronan Tynan Receives the first Alltech Humanitarian Award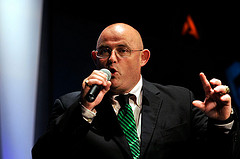 Dr. Ronan Tynan recieves Alltech's first ever Humanitarian Award
Dr. Ronan Tynan is many things. He is an orthopedic surgeon. He is a world renowned tenor. He is a world class equestrian, with 18 gold medals and 14 world records. He is more than versatile though. He is unbelievably resilient.
Born with deformed lower legs, Ronan came to the decision at age 19 to have them amputated below the knee so that he could learn to walk with prosthetic legs. Dr. Tynan overcame this enormous challenge and has never looked back. This morning Dr. Pearse Lyons presented him with the first ever Alltech Humanitarian Award.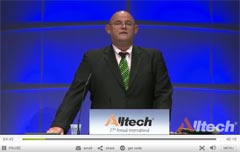 Watch Ronan Tynan's presentation and performance at Alltech's Symposium yesterday
Neither his legs, nor his achievements have damaged Dr. Tynan's sense of humor. He told several hilariously honest and embarrassing stories about himself. He opened the topic of his prosthetic legs this way. "My dad was 5'4" and my Mom was 5'5" and she wore high heels when she was a little mad at him. I stand here 6'4" and 240 lbs of raw meat, but ladies I am adjustable. I can be any height that you want. If you want a Great Dane I can be a Great Dane but if you want a Jack Russell I can be a Jack Russell too," and he let out a little terrier yelp.
Dr. Tynan inspired the crowd with his story and powerful renditions of "Don Quixote" and "Hallelujah". He attributed his success to the love and encouragement of his family and friends and the will to prepare to win. "You have to have the will to win, but more importantly you have to have the will to prepare to win," said Dr. Tynan.