Six Steps to Profitability at IPE / IFE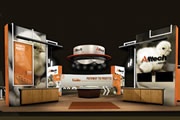 In a few hours the International Poultry Expo / International Feed Expo will be underway. This year Alltech will be presenting 15 minute presentations on important industry topics throughout the trade show. The topics focus on six steps to profitability: feed efficiency, gut health, mycotoxin management, alternative raw materials, starter feeds, and how to add value to meat and eggs.
If you are at the show, please stop by booth #1005 and say hello. If you attend one of the presentations or take a quick quiz you will be entered to win an iPad. We are giving one away each day so if you don't win today come back again.
Tuesday, January 24
1pm
Turning profitability inside out with improved gut health
Steve Collett
2pm
B100 - Early nutrition for lifetime performance
Peter Ferket
3pm
Adding value gives brands longer shelf life
Alison Leary
Wednesday, January 25
10am
FE5: Feed efficiency, where profitability lives
Aziz Sacranie
12pm
E5: Mycotoxins, stealing from your pocket
Swamy Haladi
2pm
$5: Alternative raw materials – getting bang for your buck
Paulo Rigolin
Thursday, January 26
10am
Econometrics, more eggs in your basket
David Roland
11am
C5: In ovo feeding, new methods to set new standards
Fernando Rutz