The Sun Sets on Opening Day of the 2010 Alltech Games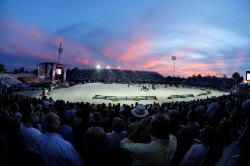 A beautiful sunset during opening ceremonies of the Alltech games.
© Dirk Caremans
Photo Credit: Dirk Caremans
Opening day of the Alltech FEI World Equestrian Games could not have gone much better. Total attendance was 23,081. The weather was perfect and we were graced with a beautiful sunset during the opening ceremony.
The ceremony featured music and equestrian styles from different regions of the U.S.A. Equestrian performances included a Thoroughbred race reenactment, Western roping and riding, and a Broadway-style quadrille performed by Freisian horses.
Some of the many riders involved were, Mario Contreras, Stacy Westfall, Tommie Turvey, Dan James, Vince Bruce, the California Cowgirls, Riata Ranch Cowboy Girls, Eitan Beth-Halachmy and Culver Academies. The crowd was thrilled when Sara Lee Guthrie, daughter of Arlo Guthrie and grandaughter of Woody Guthrie, introduced Reining star Stacy Westfall.
The musical lineup was just as impressive with, Kentuckian Wynonna Judd; opera stars Denyce Graves, Cynthia Lawrence and Ronan Tynan; Cherryholmes; and Jazz at Lincoln Center among others.
Kentucky native, legendary athlete and humanitarian Muhammad Ali brought the crowd to their feet when he and Dr. Pearse Lyons took a lap around the arena in a blue convertible.