Symposium Press Conference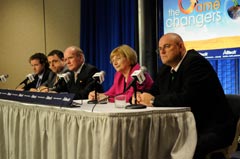 Press Conference at Alltech's Symposium
Dr. Pearse Lyons, President of Alltech, Damien McLoughlin of UCD Smurfit College of Business, Inge Russell, this year's Alltech Medal of Excellence winner, Ronan Tynan, recipient of the 2011 Alltech International Humanitarian Award and Dr. Mark Lyons, International Projects Director formed the panel at this morning's press conference.
"A large part of how the feed industry is conditionally run on is based on recycling, the issue is keeping the products safe, can you comment on how we can keep these molecules safe from the likes of PCB's and dioxins?" asked one of the journalists. Dr. Pearse Lyons responded to this question, highlighting the need for the feed industry to be re-educated, "contaminants are always going to be there, what we need to do is embrace new technologies. We need to place more emphasis into microbiology education as well as nutrition." Dr. Karl Dawson, Alltech's Director of Worldwide Research added, "with technological advances, there are things we can do and ways to detoxify, we have been doing that for 20 years. What we need to do is find a way to make these dangerous contaminants safe."
The press conference also highlighted increasing food safety initiatives being implemented by Asian and Latin American markets. "These businesses are adapting not only the technology, but they also see things as partnerships, businesses are leading the way and governments are following" said Dr. Mark Lyons, when asked to draw on his own experiences working in Sedan, Mexico and Sao Paulo, Brazil. "Leading organisations in countries such as China, have taken the best ideas we have and reinvented them. They are guaranteeing safety and traceability but also reducing cost" added Damien McLoughlin.
"How far until the farm of the future becomes a reality?" asked a journalist from Business Lexington. In response Dr. Pearse Lyons said that if it were up to the 62,000 children that saw the farm of the future at the Alltech Games last year, it would be done tomorrow, but we have to look at the reality. Introducing wind farming, solid state fermentation and algae will take 2 to 3 years. There was a lot of governmental interest in the project at the Alltech FEI World Equestrian Games, however, they were very keen to see a pilot plant built.
When Ronan Tynan was asked what is next for him, he expressed an interest in television and in helping young, aspiring singers to fulfil their dreams. Dr Pearse Lyons also shared the great news that the University of Kentucky is about to make Ronan Tynan a visiting professor. "I think it's incredible, an incredible thing for Kentucky to look forward to" he said.
Ronan also told the audience his own game changer for farmers. "I'm a farmer's son. I was brought up on a farm, where we witnessed the effects of tuberculosis and we saw how it affects family and how you have to pull together. I think agriculture and farming is what will keep this world alive. It's natural resources, the soil and the water, that will give strength to the world. Right now the people from Alltech and the scientists are working out the best way to utilise what we have."