Translating Symposium 2011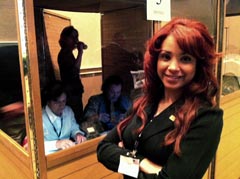 Bilingual Executive Assistant for Alltech's Director of Latin America Carla Woodley makes the rounds. In the translation booth: Maria Cecilia Navas, of Columbia, and Angelica Marquez, of Venezuela. (Photo by Mick Jeffries)
By Mick Jeffries
You don't have to know Carla Woodley to know that she speaks your language. And if not, she can definitely find somebody who does.
Woodley, the Bilingual Executive Assistant for Alltech's Director of Latin America is one of the principal coordinators of the Symposium's world class (literally) real-time translation services. A native of Panama who grew up in Texas, she's worked in this capacity for Alltech for over five years and helps coordinate a staff of nearly two dozen translators who keep the Symposium's international audience speaking the same language.
For example, this year touts twelve translators for Spanish alone, due to Alltech's vast Latin and South American contingent. According to Woodley, the 2011 Symposium includes about 155 Portugese clients, 90 Spanish clients, and 50 each who use Russian and Chinese translation services.
"This year, we have over 450 receivers (electronic wireless headsets) and they're all checked out. Our clients keep the receivers for the entire Symposium, which helps keep it hassle-free for them. We've got extra batteries on hand, and technical support for our clients the whole time," Woodley explained.
Advance registrations help the carefully-coordinated translation team know who needs what, and the service grows by magnitudes every year. "Since the beginning of the Symposium (this is #27), we've provided Spanish and Portugese; next, we added Russian. This year, we were proud to add Chinese."
The command centers for these services are the beige booths that sit in the back of the Symposium rooms. Each is staffed by two translators, veteran linguists who are independent contractors with strong ties to Alltech's culture and language. "All of our translators have more than 15 years experience. They translate literally word for word. They know Alltech, they know our vocabulary, they're always with us," explains Woodley.
Spanish Translation Coordinator Martha Florez agrees: "The bar raises every year. That's the profile of Alltech." Florez who lives in Caracas, Venezuela has been working in this capacity indendently for Alltech for 15 years. "Basically, the translators have become a part of Alltech's culture."
During the Symposium, translators get a morning briefing of what they're going to be hearing during the day. Most of the translators have medical and scientific backgrounds but Irina Zablith who coordinates the Portuguese translators believes translating for Alltech requires more than that: "It's not just learning the vocabulary. You've got to understand the context and the culture; otherwise, you may be conveying the wrong message."
"We have to study, that's a fact; it takes a lot of practice," explains one of the Spanish translators, Maria Cecilia Navas, a native of Columbia. One measure of success, Navas thinks, is transparency. "We're really doing our job if the attendees don't even realize we exist". Carla Woodley agrees: "Our translators have these incredibly soothing voices so you won't hear any static, just the speaker. The only give-away is that sometimes the speaker is a male and the translation is a female voice," she notes, with a slight smirk.
For Alltech, the translation services are an undeniable boon: "Last year we had 90 Portuguese clients and this year nearly twice that number because they knew they'd be able to understand. It's a 'win-win' for Alltech; more clients come and that helps us understand what they want and need. Making them happy is what makes us happy."
After Symposium 2011 ends, Woodley will go to work almost immediately coordinating 2012, and hopefully adding a fifth translation language: "I'm trying to see if we can have Italian. We need about 40 Italian-speaking clients to make that happen."
But until the end of Symposium 2011, you can count on Carla Woodley and the Alltech Translation team to keep things debabelized.