Tyson CEO Donnie Smith on Sustainability at IPE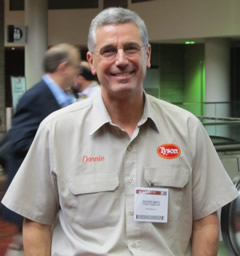 Tyson CEO Donnie Smith spoke on sustainability at the IPE Animal Agriculture Sustainability Summit
Donnie Smith, President and CEO of Tyson Foods gave the keynote address at the Animal Agriculture Sustainability Summit during IPE/IFE. Smith has been with Tyson since 1980 and has held many roles in that time. He was named CEO in November 2009. As he began his talk he discovered that the last slide was on the screen. He took a second to fix it, saying "I spent 15 months as CIO along the way so you get to learn how to work a Power Point".
Sustainability is a difficult topic to define. Some people associate it with environmental stewardship; some with health and welfare of animals and people. Business leaders often describe it as the "Triple Bottom Line" of people, planet and profits. Smith added a fourth component - products. He described how Tyson strives for continual improvement in all of these areas and stressed that they are all connected. "If you are reducing water and utility consumption.. if you are reducing waste those things are great for the environment but they are also great for the bottom line. Smith gave several examples of Tyson's sustainability initiative, including efforts to improve workplace safety, reduce water usage, and fight hunger.
After describing some of the many things that sustainability could mean he shared Tyson's definition of sustainability.
"Years ago a fellow by the name of Robert Fulghum wrote a book called All I Really Need to Know I Learned in Kindergarten. He talks about several simple principles that we learned in kindergarten that we really need to keep with us our whole life. Things like play fair, put things back where you found them, don't take things that aren't yours...Well, there's one that I learned growing up that wasn't on his list. If you borrow anything, return it in at least as good a shape as you found it if not a little better. That is our definition of sustainability."