Tyson Foods - Coping With Ingredient Quality Issues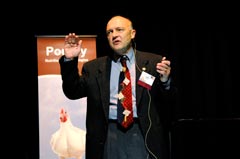 Philip Smith, Tyson Foods
Dr. Phillip Smith of Tyson Foods spoke to poultry industry attendees at our Symposium this morning. He described some of the ways that Tyson works with feed ingredient suppliers to insure good quality, appropriate nutritional composition and safety.
Tyson uses a wide range of ingredients and so they work with a large group of suppliers. They set up a very detailed ingredient specification so the supplier knows exactly what they need. They build a relationship with each supplier by learning about the supplier's process and teaching the supplier about their requirements.
It is also important to train the feed mill team and closely review the lab assays so they can adjust their ingredients and work with the best suppliers. The specification includes requirements for DDGS related to ease of unloading. DDGS can be difficult to unload from a rail car if it is loaded wet, hot or with too much syrup. It must be free flowing and it must be loaded in a suitable rail car.
With the current corn limitations they have to have a flexible system that allows them to formulate diets with a wide range of ingredients. Vegetable proteins can include: canola, cotton seed, sunflow, corn gluten, corn germ, and high protein DDG. Alternate grains and other feedstuffs include: milo, wheat, barley, bakery meal, rice byproducts, wheat midds and corn screenings.
Lastly, Dr. Smith discussed what happens when poultry companies lose money due to high feed prices. When you lose money you have to make adjustments by reducing bird weight or placements; selling hens early; feeding less dense diets; or reducing costs wherever possible. You can also utilize feed additives to improve performance and yield. But he said, "you should be doing that all the time anyway".
Do you think there are long term advantages to exploring a larger list of alternative feed ingredients?