A Year of Firsts - The Alltech National Horse Show on the Alltech Ag Network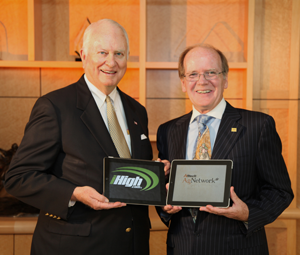 Alltech Ag Network announcement with Dr. Pearse Lyons, Alltech and Mr. Jim Host, iHigh.com
This is a year of firsts for Alltech and the National Horse Show. The 128th Edition of the show marks the first time that it will be held in Lexington, Kentucky and the first time with a title sponsor.
Dr. Pearse Lyons could have chosen to take it easy in 2011 after sponsoring the Alltech WEG in 2010. No one would have blamed him. Instead he formed a new partnership with the National Horse Show to bring this historic event to Lexington.
Lyons also started a new project with longtime friend Jim Host, who was instrumental in bringing the 2010 Alltech WEG to Kentucky. Host has spent much of his career building college sports broadcasting into a thriving industry. After selling his company, Host Communications, he turned his attention to the internet and began building iHigh.com, an online youth sports network.
The site allows any high school or youth organization to create a channel and broadcast their events for free. Visitors can watch for free as well and schools and organizations can raise money by selling ads. Once the live stream is over the video is automatically archived and added to the immense collection of videos. Athletes can create their own page with a highlight reel, photos and profile info.
Lyons and Host combined forces to create the Alltech Ag Network, powered by iHigh. Now kids that are involved in rodeo, pony clubs, animal judging or Future Farmers of America can broadcast their events as well. In fact, this year's FFA convention was broadcast live on the Alltech Ag Network and several thousand people watched live online.
And now the Alltech National Horse Show is being broadcast live on the www.AlltechAgNetwork.com.
Don't miss it. But, if you do... you can always watch the archived version.