Alltech's China Dairy Symposium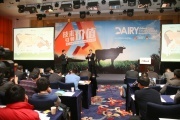 Alltech's China Dairy Symposium
"What is the world record for milk production?" Dr. Mark Lyons asked over 400 of Beijing's largest dairy producers, feed mill operators, agricultural educators and other influential industry professionals at Alltech's China Dairy Symposium in Beijing this week. "You may be surprised to learn that it is in fact 32,500 kilos of milk, produced naturally," said Mark as he challenged delegates to break boundaries.
The theme of the symposium, 'Technology Drives Value' highlighted management techniques and solutions, such as nutrigenomics, that will help those of us in the dairy industry to feed our herds to their true genetic potential.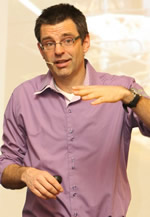 Joep Driessen
Joep Driessen, director of CowSignals® Training Company described 5 key areas needed to achieve optimum overall herd management:
Dry matter intake can increase one litre per day by moving forward the head rail in a feed area.
Maximize the freedom of cows, not the farmers.
The cow is a social animal; they want contact with other cows, not just a fence and walls.
A cow will keep distance when they are walking or standing on a slippery surface.
Shiny coats not shiny metal - cows which lie down for 12-14 hours a day are more productive than those with lower lying times, shiny metal indicates the cubicle is impeding the cow as she stands up or lies down thus reducing lying time.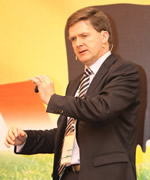 Jack Corless
Jack Corless, director of Rumsol Consulting Ltd. took charge of the afternoon session advising delegates that microbial proteins can help the rumen reach its true potential by improving digestibility of roughage. The result is increased milk yields and milk quality.