Broken Records in the Race Across America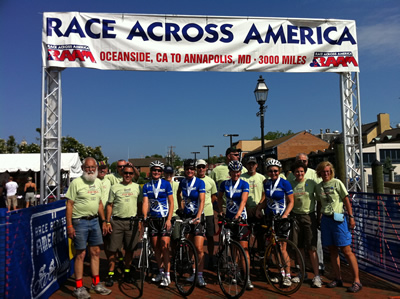 4RawMilkCats on the finish line in Annapolis, Maryland after breaking the women's overall record.
4RawMilkCats started the Race Across America (RAAM) in Oceanside, California with an ambitious goal; to set a new course record for women aged 50-59. The current record was 7 days, 10 hours and 35 minutes. Six days, 11 hours and 34 minutes later they crossed the finish line in Annapolis, Maryland.
They achieved their goal and then some. Not only did they break the record for their age group, but they broke the overall women?s record. And, the previous record was set on a course that was 100 miles shorter than this year's race.
RAAM enthusiasts consider it to be the world's toughest bicycle race. It is not a stage race, just one continual stage, similar to a time trial. The clock never stops. The new Alltech Life Sciences division sponsored the team. "I spoke with Cat Berge, the team captain, last summer and she talked about the idea of competing in this team division of RAAM. It was obvious that she and her team had the passion needed to be record breakers," said Dr. Mark Lyons, of Alltech.
For details about their journey visit 4RawMilkCats' blog