Dutch Team Takes the Gold Medal in the Team Grand Prix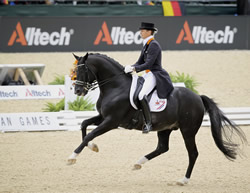 Edward Gal (NED) secured the individual first place ranking on Moorlands Totilas and propelled the Dutch team to its first gold medal win at the Dressage World Championships presented by Alltech at the Alltech FEI World Equestrian Games. Credit: Dirk Caremans
The Netherlands won the gold medal in the Team Grand Prix today despite the elimination of Adelinde Cornelissen, on Jerich Parzival. The horse was eliminated by the ground jury due to visible blood in his saliva. The Dutch team had never won a gold in the team event before.
The British team, who had never won a team medal at the world championship, took the silver. Laura Bechtolsheimer (GBR) on Mistral Hojrisof helped her team with a 2nd place individual result. She was very please with her horse's performance. "He's so special. He's such a tryer, and anyone who looks at him and looks at his face can see what a special horse he is."
The German team took the bronze: the first time since 1970 that they did not go home with the gold.
Listen to an interview with Edward Gal following the Dutch victory:
audio