From Farm to Spoon at Chaney's Dairy Barn
Why I could not wait to start my ice cream business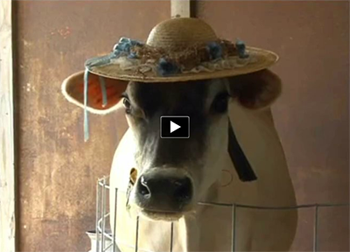 Carl Chaney spoke to the dairy session at Global 500 today. The Chaneys saved their family farm a few years ago by expanding into ice cream production and opening "Chaney's Dairy Barn" a homemade ice cream shop and restaurant.
Being in retail allowed the Chaney's to sell their dairy products directly to local customers. Did they need a big advertising budget to do this? No. With a little creativity and the power of social media they were able to communicate to hundreds of customers about special events and products. Some of the events that make Chaney's so popular include, Breakfast with Santa, Ice Cream and a Moovie, a Corn Maze, and dairy tours.
They even made a video of Miss Glimmer, one of their cows, talking to kids about agriculture and dairy farming. Carl helped inspire Glimmer to "talk" during the filming by feeding her a lot of peanut butter. At the end of the video Glimmer lets the kids know that no humans were harmed in the making of this movie.
You can Like Chaney's Dairy Barn on Facebook.