Genetics is not destiny. Knowledge is the power to be the Game Changer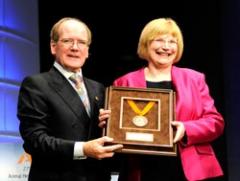 Prof. Inge Russell - Knowledge is the power of the Game Changer
Photo Credit: Tim Webb
Dr. Lyons didn't always have a sophisticated research lab at his disposal, but his friend Inge Russell did. He would call her and ask her questions about yeast biochemistry. She would say, "I shouldn't tell you but I will." Now, many years and many research papers later they are still good friends.
Dr. Russell is the driving force behind the Alltech Young Scientist program. She is extraordinarily dedicated to helping to inspire the next generation of scientists. She was Canadian Scientist of the Year two years in a row. And she is this year's Medal of Excellence winner. Russell spoke on one of her passions - personalized genomics. For very little money now you can buy a DNA kit, spit into a tube and 6 weeks later they send your genome back to you.
You can now learn about your genes, ancestry, genetic response to common drugs, carrier of a rare genetic disease, predisposition to disease and response to diet, exercise and nutrition But this is controversial. Some people would like to prevent you from learning about your genetics. Isn't knowledge always good? Isn't knowledge always better than ignorance? Isn't it your information?
Genetics is not destiny. Knowledge is power. Genetics can allow us to make important health decisions and avoid diseases based on genetic tendencies. Knowledge is the power to be the Game Changer.