Meat Production To Grow By 40% Over Next 20 Years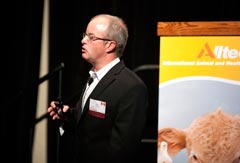 Tim McAllister introduces phage therapy at Alltech's Symposium
The beef session at Alltech's 27th International Symposium kicked off with some startling statistics. Livestock currently provides 33% of the protein for the human diet and meat production is expected to grow by 40% over the next 20 years.
The speakers focused on how the introduction of new technologies, combined with a better understanding of natural solutions can change the game and make this production more efficient, greener and cleaner. Gut health is essential and non-antibiotic alternatives exist, such as Alltech's Bio-Mos, that are proven to control pathogens and Mycosorb which is a natural solution to mitigate the effects of mycotoxin infection.
Some of the game changing technology discussed was Optigen and DEMP, two new products from Alltech designed to increase production in the face of declining corn stocks. There was also a focus on programmed nutrition - a new system to get the most out of your animals. Tim McAllister introduced phage therapy, a new potential treatment to deal with the occurrence of E-coli in ever more intense farming. Bern Kotelko discussed his manure digester at his own "farm of the future" where he uses it to save 60% on electricity.