Pathway to Poultry Profits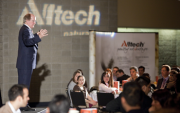 Dr. Lyons speaking at the Alltech Breakfast Meeting at IPE
Alltech's Annual Breakfast Meeting at the International Poultry Expo is a chance for members of the poultry industry to sit down together and discuss the most important events from the previous year and trends that they will face in the future.
Attendees were treated to a traditional Irish breakfast while Dr. Pearse Lyons, President of Alltech, spoke about improving profitability and sustainability for poultry producers. He described Alltech's toolbox for increasing productivity in broiler breeder and layer operations. That toolbox is filled with natural nutritional technologies developed through research that integrates digestive function, growth responses and nutrigenomics.
Through nutrigenomics Alltech's researchers can determine how particular nutrients effect gene expression. This is not to be confused with genetic modification; the animal's DNA is not altered. Gene expression is a natural adaptive response to the environment. Nutrients act as signals about the available food supply. These signals activate or de-activate appropriate genes that will help the individual survive with the available resources. Careful control of nutrients and their availability when an animal is very young can imprint the genes to enhance growth and feed efficiency.
Improved efficiency means better profitability for producers. However, it also means more sustainable food production. Feeding more people with fewer resources is definitely a move in the right direction.
Watch the full presentation on the Alltech Ag Network.