Poultry Science at PSA Annual Meeting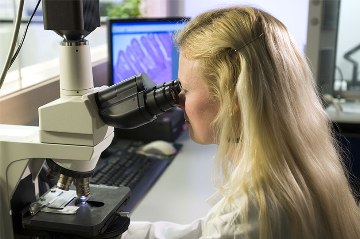 Ursula Thielen, Senior Lab Tech at our Bioscience Center in Nicholasville, Kentucky.
The 100th annual meeting of the Poultry Science Association kicked off Saturday in St. Louis. Alltech is proud to be presenting 11 abstracts this year; addressing a wide range of problems and opportunities in poultry nutrition and health.
Poultry Feed Efficiency and Health
Feed costs are an enormous concern for poultry growers as corn prices continue to climb. So, a good portion of our research efforts target improved feed efficiency and utilization of novel raw materials via solid state fermentation and natural enzyme complexes. There is also increasing pressure on agriculture to replace antibiotic growth promoters and other pharmaceuticals like 3-nitro. Natural animal health solutions are, as always, central to our research efforts.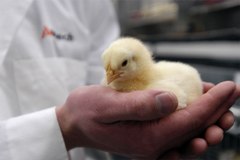 A baby chick at our Bioscience Center in Nicholasville, Kentucky.
Nutrigenomics and Antioxidants
Our nutrigenomics center allows Alltech's research scientists to observe the effect of specific nutrients on gene expression in poultry and other livestock. This approach allows us to gain an understanding of the molecular and cellular processes that result from changes in the animal diet. Nutrigenomics is especially important in studying the antioxidant effect of organic micro-nutrients such as selenium. Increasing the antioxidant status of livestock improves meat quality and human health.
The following are abstracts that will be presented on Alltech products and programs at PSA.
632 The effect of selenium supplementation on oxidative damage and mRNA levels of antioxidant genes in the testes of Single Comb White Leghorn roosters
M.L. Spry, K.M. Brennan, K.E. Routt, A.J. Pescatore and J.L. Pierce
627 Comparison of Actigen and bacitracin methylene disalicylate (BMD) supplementation gene expression profiles in the jejunum of 6-week old broilers
K.M. Brennan, G.F. Mathis, R. Xiao, B.S. Lumpkins and J.L. Pierce
596 Differential effects of sodium selenite and Sel-Plex selenium yeast on the hepatic gene expression profile of laying hens
R. Xiao, R.F. Power, D. Mallonee, K. Routt, L. Spangler, T. Ao, J.L. Pierce and K.A. Dawson
565 Evaluating the effect of feeding up to 30 percent distillers dried grains with solubles (DDGS) and an enzyme supplement on the performance and egg quality of brown egg layers through 30 weeks of production
A.D. Quant, A.J. Pescatore, J.L. Pierce, T. Ao, P. Rossi, A.H. Cantor, M.J. Ford and W.D. King
563 Production performance and egg quality of hens fed diets containing up to thirty percent distillers dried grains with solubles (DDGS) and an enzyme supplement
A.D. Quant, A.J. Pescatore, J.L. Pierce, T. Ao, P. Rossi, A.H. Cantor, M.J. Ford and W.D. King
540 Influence of EconomasE supplementation on egg selenium, production performance and egg quality parameters of brown egg laying hens
A.N. Meredith, A.H. Cantor, A.J. Pescatore, M.J. Ford, J.L. Pierce, T. Ao, K.A. Dawson, L.M. Macalintal and W.D. King
539 Impact of dietary supplementation of EconomasE on egg selenium, production performance and egg quality of white egg laying hens
A.N. Meredith, A.H. Cantor, A.J. Pescatore, M.J. Ford, J.L. Pierce, T. Ao, K.A. Dawson, L.M. Macalintal and W.D. King
528 Effect of dietary inclusion of Actigen on ileal villi morphology of turkey poults
I.B. Barasch, P.R. Ferket, J.L. Grimes, C.R. Stark and R.D. Malheiros
525 Live performance and intestinal morphology of broiler chickens fed diets supplemented with BMD, Actigen or neither product in two pen trials on built-up litter
S.R. Collett, G.F. Mathis, B. Lumpkins, D.M. Hooge, K.M. Brennan and J.L. Pierce
514 Gene expression study reveals the association of dietary supplementation of Actigen and the regulation of pathogen-influenced signaling pathways in broiler chickens
R. Xiao, R.F. Power, D. Mallonee, L. Spangler, K. Routt, K.M. Brennan, J.L. Pierce and K.A. Dawson
510 Effects of supplementing Allzyme SSF and Allzyme PT in wheat based diet on the performance of chicks
T. Ao, J.L. Pierce, M. Paul, A.J. Pescatore, A.H. Cantor, K.A. Dawson and M.J. Ford