Race Across America - 4RawMilkCats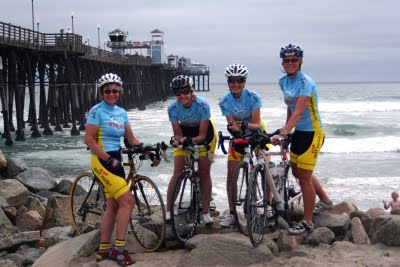 Oceanside, CA
Isabelle Drake, Jeanine Spence, Lori Cherry, Catharina Berge.
The Race Across America (RAAM) is probably the world's toughest bicycle race. The course starts in Oceanside, California and works its way across the U.S. to the finish line in Annapolis, Maryland. RAAM began in 1982, when four cyclists raced from Santa Monica Pier to the Empire State Building. The event has grown to include relay teams and is followed by fans all over the world.
Why is RAAM so tough? Unlike the European Grand Tours it is not a stage race. The clock is running from start to finish and even though it is 30% longer than the Tour de France the cyclists have half as much time to complete the race.
Alltech Life Sciences is proud to be sponsoring the 4RawMilkCats team in this year's race. The team is composed of four accomplished women ultra-cyclists whose average age is 50+. Catharina Berge is Team Captain for 4RawMilkCats and 2005 female winner of the solo RAAM. She has never been defeated by another woman in an ultra-cycling event. Lori Cherry has an impressive list of cycling victories and will be inducted into the Furnace Creek 508 Hall of Fame this year. Jeanine Spence is a two time winner of the California Triple Crown Stage Race. Isabelle Drake is a winner of the Randonneur 5000 km award and has completed 28 California Triple Crown Double Centuries (200 miles in one day). The team goal is to set a new course record for women aged 50-59. The current record is 7 days, 10 hours and 35 minutes. ?You can watch their progress on the 4RawMilkCats blog.