Sustainability in Haiti - Agriculture, Education, Fair-Trade Coffee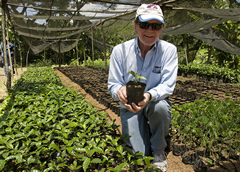 Dr. Pearse Lyons with Coffee Seedlings
This morning Dr. Lyons, Nathan Hohman and Juan Gomez arrived in northeastern, Haiti. They are there to visit elementary school students in Ouanaminthe and coffee co-ops in Dondon and Cap-Ha?tien.
One year ago Haiti was hit by a devastating earthquake. Dr. Lyons led a small team to Port au Prince days later to see how we might be able to help. Looking back, Dr. Lyons said, "At that time we didn't know what we were getting ourselves into, but one thing was certain - we wanted to have hands-on, personal involvement."
Alltech's efforts in Haiti have grown over the last year and taken shape as the Alltech Sustainable Haiti Project, which includes educational, economic and fund-raising initiatives. One of our immediate goals following the earthquake was to support existing Haitian enterprises to provide revenue and economic growth. As an agricultural bioscience company it made sense to seek out agricultural businesses.
We found Cacgava, Haiti's oldest coffee co-op located in Dondon, which is overlooked by the magnificent and historic Citadelle Laferrière fortress that sits atop the peak. Northern Haiti is very well-suited to coffee production and has a handful of fair-trade certified coffee co-operatives. And so, we launched Alltech Café Citadelle, a fair-trade mountain grown Arabica coffee. All proceeds from Alltech's coffee sales go directly to supporting the members of Cacgava and the other fair trade co-ops that belong to RECOCARNO (a union of northern Haitian co-ops).
Following his visit to RECOCARNO today, Dr. Lyons said, "Here we are, on the one year anniversary of the tragic earthquake that devastated Haiti." Alltech is currently working on creating sustainability for hundreds of families through a local coffee co-op. This co-op is looking to us to provide marketing for their coffee; to help to create a more efficient operation; and to help them expand onto new plantations. We will be bringing in a team of engineers to help improve their process and we are creating a brand for their coffee."
Education is important to Alltech and it is essential to any long-term solutions in Haiti. So, we've also refurbished the Centre Educatif l'Union des Coeurs in Ouanaminthe and assumed full financial responsibility for its operation. On one of Dr. Lyon's many visits to the school, the students sang for him. He was inspired to create a Haitian children's choir to raise awareness of Haiti's ongoing problems. He enlisted the help of his friend Dr. Everett McCorvey from the University of Kentucky School of Music. Months later the Haitian Harmony Children's Choir traveled to the United States to sing at the opening ceremonies of the Alltech WEG and at a sold out benefit concert with The Chieftains.