On The Road Again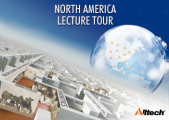 Alltech North America Lecture Tour
The first stop of the North American Lecture Tour has wrapped with a bang! We had a tremendously successful event, with some of the state's largest dairy producers, feed mill operators, agricultural educators and other influential industry professionals attending. The lectures were very well received by the delegates, with each lecture followed by a spirited and lively Q&A.
All told, over 40,000 cows were represented by the delegates in attendance today. Large dairy producers like Ernie Audet and Bill Rowell, along with decision makers from the largest feed mills in New England like Cubby Bourdeau, Peter Jacobson and Jim Bushey were joined by influential academics like Julie Smith and Betsy Green; and all were pleased to learn about the technological developments Alltech has been pioneering.
The theme of the 2012 North American Lecture Tour is, "Shaping Tomorrow's World: Path to a Profitable Future." The tour takes the speakers to 24 different cities across North America and showcases important advances for the agricultural world. Today's speakers examined such issues as programmed nutrition, the Alltech Ag Network, social media and more.
- Evan Wisell, Alltech Vermont